Mural design
Concepto, planificar y aplicación – todo elaborado por la misma agencia.
Indoor-graffiti
Posibilidades ilimitadas.
Object design
De objetos sencillos hacia anhelados.
Graffiti-Events
Nuestras ideas fluyen constantemente.
Graffiti-Workshops
Lugar de creaciones en común.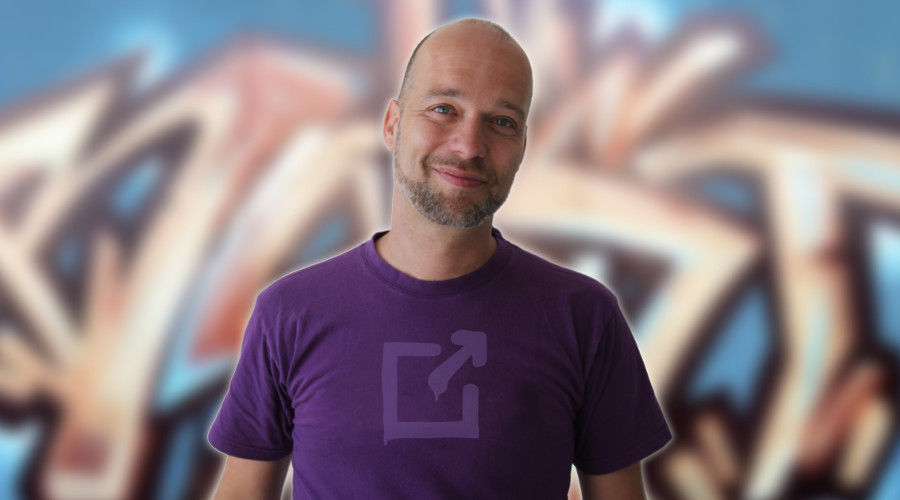 Born to b-free.
The graffitiartist Marcus Dörr has been a piece of a multicultured mosaic his whole life. Part of a big town, which attracts any kind of artists since. In his birthtown Offenbach am Main Marcus founded his graffitiagency artmos4 in 1997. He is designing international surfaces, interior and objects of any kind. From Footballstadiums over indoor-playgrounds to conferencerooms and conventionbooths, even betonmixers and clothinghooks. In addition he also realizes graffitievents and -workshops where he amazes participants, customers and viewer equally.
Even after work-hours Marcus is still not done. Thats when his freespirit is taking adventage of the spraycan. His inspiration is finding his own way through his alter ego b-free. He can find most of his inspiration while traveling. Especially "La isla bonita" in Ibiza touched him deeply. Thats where he enjoys it the most being creative – as a free artist or for contract work regarding graffiti in Ibiza. His passion for the sunny island goes so far that he opened a new headquarter in Santa Eularia in early 2016. Some of his local customers in Ibiza are Amante Beach Club, Dune, Casa Colonial, Law-Gin, Ibiza Music and the Atzaro Hotel. To be continued… To b-free…
What encourages me?
Graffitiart is multifaceted, creative and unique. The greatest thing to me is to transorm a boring surface into an eyecatcher, with good ideas in my head and a can in my hands. I realize any of my customers projects on any surface you could imagine. In the past I already designed massive walls in stadiums as much as small, detailed modelcars. The most miscellanous and various surfaces and materials came infront of my spraycap, therefore i worked in day- and nightshifts to create the entire margin from detailed themes to common graffitistreetart. My passion never faded in those 20 years I've been spraying, it even kept growing. Because of my very good technical training I benefit from the needed know-how, even during difficult projects, to find the perfect solution.